Napa Valley Wineries and Vineyards
Napa Valley is blessed with a Mediterranean climate and beautiful natural surroundings, reminiscent of Italy's Tuscan region. Napa Valley's perfect agricultural climate is a major factor for the regions grape productivity, and the numerous vineyards and wineries dotted along the mountain landscape. Napa Valley's wines are highly regarded for their superior quality and diversity of style. The appellation encompasses about 297,000 acres, with more than 45,000 acres planted in grapes.
Napa Valley wine tours and vineyards are among some of the most famous in the world, serving as Napa's main tourist attraction and industry.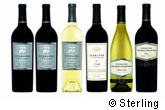 Sterling Vineyards
Offers tours with a beautiful gondola ride taking guests up to the mountain top vineyard, with stunning views of the Napa Valley. Sterling offers a wide array of wines for tasting, and a great display of 500 years of wine art and artifacts.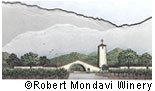 Robert Mondavi
Founded in 1966, Robert Mondavi has grown to one of the foremost names in California wine. Walk through historic buildings reminiscent of early California missions.
Beaulieu Vineyard
Founded in 1900 by Georges de Latour, Beaulieu Vineyard has set the benchmark for California Cabernet Sauvignon for decades using the timeless process implemented by its founder.


Burgess Cellars
The vineyards of Burgess Cellars date back to the 1880's, and have continually occupied the fertile western side of Howell Mountain. They are noted throughout the region for producing very stylistic wines due to their location and differing climate.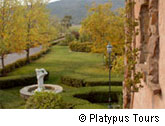 Platypus Tours
Included in the tours are Victorian buildings, old stone wineries, an 11th century French replica, a Tuscan-style piazza, a Cape Dutch inspired structure, a couple 1930's farmhouse wineries, a French Chateau, and more!
Here is a map of wineries found in the Napa Valley/Sonoma region
For a truly unique experience, join the Wine Train in their luxurious railcars for a 5 course lunch or dinner, and wine tasting, while you wind through the beautiful Napa Valley Mountains.
Before you leave from your Napa Valley vacation, be sure to visit JV Warehouse. This impressive wine warehouse stocks every locally made wine and then some. The Napa Valley wine makes a nice souvenir or gift from your vacation.
Reserve a room with Chardonnay Lodge, and experience the finest in Napa Valley accommodations and customer service.